David Himel Writes: The King Mob Monkey Boots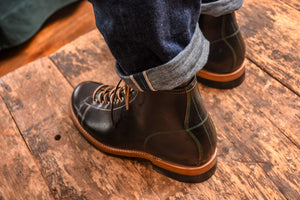 Getting the King Mob boots made was an odyssey. I chose to make Monkey Boots five years ago; I've always loved the style, and they speak to my punk rocker roots. They have a blunt, beautiful ugliness that I think represents the soul of the 1960s Londoners that originally adopted monkey boots as their own. They mix formal style with ass-kicking ability.
I went to four separate bootmakers before choosing the factory in León. None of those four could work with the stiff toughness of the fully-pit-tanned mimosa horsebutt. I managed to get one great pair in LA that turned out perfectly. I wore them every day for three years, the leather wearing down to beautiful teacore, but the maker was unable to turn out another successful pair. The search continued.
 The horsebutt must be handworked, soaked, and hand-lasted. Those skills are nigh-impossible to find in today's marketplace, so my search lead me to León—one of the world's greatest repositories of handmade, goodyear welted boot talent anywhere on the planet. Several prototypes and trips later, the King Mob Monkey Boot was born.
 Lasted by hand, and stitched with tiny, beautiful, artisanal work, using the absolute best internal parts—the KMB was finished. As a final touch, I used our characteristic Himel Bros. green for the stitching on the heel.
 Three weeks into wearing my King Mobs, and it's clear why I love them. First off, the fit: I've got wide, flat feet. Usually, when I buy boots, I expect some pushback in the fit, but these guys were comfortable within two wears. That's a big deal! The King Mob boots are made from the most durable, amazing Shinki horsebutt, and "durable horsebutt," doesn't usually translate to an easy break-in. I don't wear anything but big, tough boots, and I know the value of a good pair on my feet.
 They're super comfortable to walk in, and the Biltrite sole gives great traction. I don't coat or polish my boots, because I like how they look beat to hell, so I got to see the teacore break through immediately, and wow. The leather gives enough to take the shape of the foot beneath, and molds to the wearer transparently. I've kicked my way through snow and mud, deep puddles and worse—nothing's gotten through to my socks. These are lifetime boots.
 I won't be able to get more Shinki horsebutt for a while. It's tough to come by, and this is going to be the last chance to for this style in this leather. Check the pictures of the butts on the product page—brown and black, the texture and finish is incredible.
I know you'll love your pair.
Best,
DH
2 Responses
Leave a comment
Comments will be approved before showing up.