Nipissing Buffalo Hide Jacket on Lake Nipissing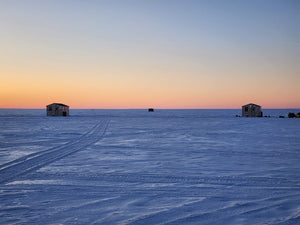 I recently had an opportunity to journey to Lake Nipissing, which is located four hours north of Toronto. I grabbed my friends Baba and Trace, and we loaded the truck with gear, a sauna tent, and food to embark on an adventure. I've canoed the headwaters of the French River, which flows out of Nipissing, but I've never been up to the lake itself.
The lake was a historically important water trade route in the early fur trade and the Nipissing Anishinaabe nation's traditional hunting and fishing territory. It was a great honour to get up there and try my hand at ice fishing and open ice photography. What an adventure! The first night was -25°C in our small hut. The cold was a real test for Trace, wearing the Nipissing jacket with a Merino liner. According to him, we passed with flying colours; the howling wind and open ice did not penetrate the warmth and North American bison shell. I name all my jackets for iconic Canadiana and everything that makes Canada great. I mean, I am Canadian, and the history of leather jackets here was a mix of predominantly Jewish factory owners, indigenous tradition, early catalog stores, and local tanneries. The pre-history of leather jackets was made up of indigenous crafters making thousands of years of traditional hide tanning, suture, and sewing of functional and ceremonial garments. My Nipissing jacket was and is meant to honour that tradition.
Leave a comment
Comments will be approved before showing up.