The Deer and Hunt Camps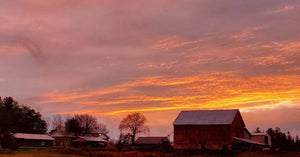 I went on a bit of a journey to test out some of my winter fall gear.  I was invited for a rare opportunity to go on a deer hunt with some fellow men, one and two generations older than me.  I was very honoured because this was the post-war generation.  These men are mostly steelworkers - real salt of the earth.  They grew up on an isolated island far in the Northwest of Ontario. The island is cut off from the mainland and most of these Islanders had what we would consider self-sufficient isolated childhoods, or at least their parents did.  The island is off-grid; of hunt camps, maple bushes and hobby farms. These men are of a bygone era.  That era is one of work, self-sufficiency, living off the land and garments and tools that required durability, functionality and style.  Camp shirts, warm weather gear, boots that didn't leak, tools that worked, all requiring comfort and performance that might make the difference between survival, warmth and success at the hunt!
Every day we had a wakeup call at 5:30 am.  We would fire up the wood stove to get some heat going and use the gas stove to brew coffee in the old stoneware percolator.  Gearing up in my Himel thermal knit shirt, Freenote collab Brisbane Moss heavy flannel camp shirt and layers of down and my double wool custom Canuck jacket, I prepared for several hours of silence in our -10 degree calcius deer stand.  Hunter orange is a requirement.  These hunt camps mostly built pre 1940 are just full of vintage accoutrements.  Old wood stoves, saunas, 1930s, 40s and 50s gear...and of course antlers of hunts' past.  After a day of "deer waiting" we went back to the cabin to heat it up, and warm ourselves with a gourmet dinner.  Our evenings were spent visiting other hunt camps.  These old codgers were all taught to play bagpipes in the 1950s and 60s by WW1 Scottish vets. They had a 5 pipe band in the 60s...and during tales of exploits past the pipes came out!
The magic of these experiences is the passing on of wisdom from the past.  Learning hilarious tales bound with a different ethos of a long ago epoch. It truly inspires me to build the kind of things that work, and that I feel these guys would appreciate.  Like Kentvale maple syrup.. Himel Bros gear got us through the journey!!
Leave a comment
Comments will be approved before showing up.