Adventures in America: The Road to Rochester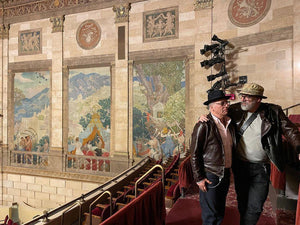 So I went on a bit of an adventure to Rochester N.Y.  There were two main objectives to this fear and loathing....on the road so to speak, primarily to meet Prof Brooks, man of letters and Himelbros aficionado, and secondly to deliver crack staffer Reilly Nelson to her alma mater Eastman School of Music to perform and celebrate with her many antecedent victors of the Lotte Lenya Completion hosted by the Kurt Weill Foundation.  I was treated to several Grammy Award winners/nominees, Broadway stars and of course our own Ms. Nelson performing a Kurt Weill classic Youkali!  An incredible treat to experience the Eastman School and many of their uber successful graduates and the magnificent architecture.
Rochester is a city caught in time.  Built in the glory days of Kodak, billionaire monies flowed and the early century architecture is magnificent.  The city is a lady in waiting, for some artist colony or hipsters to flood in and retake its glorious downtown and spaces. Sadly, there is loads of glorious architecture and living spaces, retail spaces and it is all unused and unrented.  It seems like a dream compared to a city like Toronto where no space goes unbought and no architectural masterpiece can be saved by the global oligarchy of developers decimating the heritage of the city.
My other great joy was to meet up with Douglas Brooks, Professor and Renaissance man, lover of beauty and precious things and expert of Indo European scholarship.  Douglas was a brother from another mother and we spent days exploring our new found friendship.  His love of Himel jackets is extensive and I was blessed with hours of chats about life, philosophy, history, psychology and of course politics and jackets.  Those videos are coming to youtube soon.  Doug also collects boots, bikes, jeans and people so we share more than a few joys.
More than once I imagined what it would be like to occupy the magnificent buildings to create the perfect store, shop and loft.  The city scapes harken back to my film days and the deco branding of the Kodak plant on the boxes of my movie film stock from film school days.  Rochester is like a time capsule of a company town from days gone by.  Arts and minds...I will post videos of Reilly and Douglas over the coming days on my Youtube.
Leave a comment
Comments will be approved before showing up.