Dave Himel Writes: Why We Made the Ammunition Boot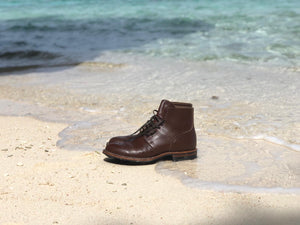 For those that are interested in diatribes (My Tribe), I want to explain the story behind our latest collaboration with storied boot makers Viberg Boots. First thing you should know is that I love all things historical, Canadian, and design. I stress Canadian themes in our products from stylistic elements, right down to the names of our jackets.
The Ammunition boot was an idea that came together when Brett Viberg (my fellow Canadian heritage boot maker) and I were talking about making our next collaboration together. Brett had a pair of WWII boots made in a factory in Vancouver for the Canadian Army. We thought it would be cool to reproduce the pattern identically on a Munson shaped last.
Munson redesigned the US Army boot shape in 1912 to make a more wearable boot, wider in the toe box and utilitarian to prevent discomfort and reshape the boot for the rigors of war. Brett used Vibergs Munson shape with a slightly flatter toebox.
For the leather the idea came when Brett and I visited Horween Tannery last year. They have been in business since forever and in their office was a pair of WWII paratroopers'boots made with their WWII tannage. Brett decided right there to use that tannage with a rough wearing Chromexel horsebutt that replicated the leather from that WWII jump boot. This leather will last a life time and shape to the foot. Horsebutt is the best money can buy for shoe leather.
This boot is special from the lasting, stitching right down to the sole. We used a RidgeWay sole from England. It's Essentially a hybrid of a Dainite and Commando, rugged yet refined. The original design was for Golfing, which explains the refined rugged, you can wear with a suit but when you turn it upside down to see the sole its good for the country side. The eyelets on the boot are hand painted brown, and the waxed lace option is authentic to military lacing. We even designed a special boot bag and t-shirt that go along with the boot.
This is a really special boot and one that you wear for a lifetime. Stitch down construction and incredible internal parts from Vibergs incredibly knowledgeable boot build process will more or less guarantee satisfaction with the longevity and character aging of this boot. We have limited amounts of this leather for the run, so enjoy them and realize how special you are and they are!
Best
Himel
The Himel Bros. x Viberg Ammunition Boot is available for presale right here, along with the tie-in limited edition t-shirt. 
-Ed.
Leave a comment
Comments will be approved before showing up.