Woodland adventures with David Himel - PART 2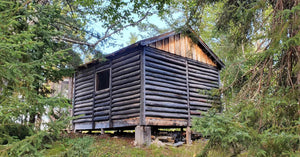 After my trip through the back country North of Superior, we took some rest at a log cabin in Gogama on Lake Mesomikenda which I helped build over 10 years ago. If you're familiar with the area, you're also familiar with its exceptional beauty and charm.  
We caught some incredible massive brook trout and continued testing out the Himel Bros Bespoke Reversible Chindit Bush Hats, as well as our soon-to-be-released Viberg x Freenote Thomson Camp Shirts. 
Here I am wearing the Bespoke Reversible Chindit Bush Hat in (currently sold out) tiger print.
We did some pretty fantastic campfire cooking, and hung out with some pretty handsome pups, too. 
––––––––––––––––––––––––
I had an incredible time out on Lake Mesomikenda in this log cabin, and I've already got the itch to head out into the wilderness once again.
Until next time,
DH
Leave a comment
Comments will be approved before showing up.