Why Are Himel Jackets So Expensive?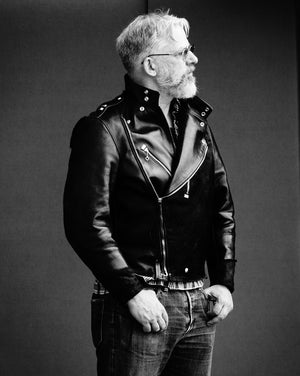 It's a common question here at Himel HQ—perhaps the most frequently asked of all. Here are five reasons why Himel products aren't just expensive—they're worth it. 
1. We Pay Our Team a Living Wage
Our team works out of our Toronto, Ontario manufacturing shop. They're experts in their craft, including techniques that are fully outside the purview of contemporary brands. The cost of living in Canada is much higher than other countries where leather jacket manufacture takes place, and we pay our employees well beyond that standard. Our team is our most valuable asset, an accretion of lifelong knowledge unmatched anywhere else.  
2. Our Materials are the Absolute Best
We don't settle. Our leather is sourced from the absolute best tanneries in the world—Shinki, Horween, Victoria—and we order only proprietary batches specially formulated through collaboration with the tannery owners. Our thread is 100% cotton American thread, made at one of the only factories left in the USA. Our hardware? Authentically sourced vintage reproduction, usually Japanese, or one of our spectacular NOS (New Old Stock) finds. That means real 1930s, 40s, or 50s zippers—talk about a limited stock!
David travels to the tanneries and monitors the production and manufacture of most of the materials that go into the jackets, including zippers, linings, leathers and other parts whenever possible.
3. Our Techniques Take Time
Himel Bros. uses an extremely high stitch count by comparison to other makers, in order to accurately represent the manufacturing techniques of the very best vintage jacket makers. We also use 100% cotton American-made thread, which means our sewing takes significantly longer—up to three times longer—than other manufacturers. When you put on a Himel, you can feel that quality—the seams don't give. Each jacket feels like a second skin, and each stitch is inspected and assured by some of the most talented people in the business.
Leather is cleanly cut, skived, taped and glued. Stitches are tight and clean and in many cases hand-knotted at the finish. There are few companies left that can make and alter a jacket for perfect fit based on posture, build, and unique bodily dimensions. We can, and have a near perfect success rate, as our testimonials show both here and all over the internet.
4. We Run an Ethical Business
From the payscale of our few employees, to the wastewater treatment of every tannery we patronize, to the way we deal with retailers, we consider ethics in every aspect of our business. When you put on your Himel Bros. horsehide leather jacket, you're not just putting on a handmade piece of stylish clothing—you're also putting on the hard, paid-for, work, of a small number of skilled artisans.  We try to protect the environment, and our tanneries meet stringent European, American, Canadian and Japanese environmental regulations. 
5. "One Good Thing"
The polestar of the Himel brand, and David Himel's personal motto, is: "One Good Thing." You've probably seen that motto, at the top of our website, in our emails, in our instagram bio, but what does it actually mean?
Our guiding light is quality—and life, indisputably, is hard. There are few comforts between the cradle and the grave. One of the true pleasures of earthly existence is to feel, in your hands, an object that is truly good. Our goal is to make objects of true pleasure, in which form and function are one; as well, these object should hurt no one to produce. 
"One Good Thing," means a balance—quality and ethics, perfection and fault, form and function—that we strive for every day. We don't compromise, ever, and we don't expect our customers to either. Every Himel product reflects the "One Good Thing," ethos, and we expect those products to last our customers a lifetime. 
Leave a comment
Comments will be approved before showing up.