What is a Teacore Leather?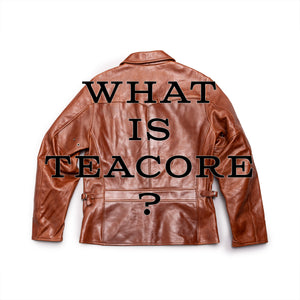 A leather buzzword that's thrown around a lot online is "Teacore."
Basically, a teacore leather is a leather that's brown underneath it's surface.
Our Shinki horsehide leather is vegetable dyed with mimosa bark, for tannins. Mimosa produces a lovely pinkish brown undercolour, that stains the leather through absorbing the tannins. That pinkish brown undercolour is the color of the leather before a finish is added. Whatever finish is added sits on top of the base color of the leather.
If we're using a pigment finish, essentially a paint, when that paint scratches off or wears off, it reveals the mimosa brown underneath. It's called "teacore" because it's the colour of good strong tea.
Teacore is usually only seen in vegetable tanned leathers. Chrome tanned leathers can be teacore leathers, but only if the raw hide is dyed—raw chrome tanned hides are usually pale bluish grey.
The purpose of manufacturing a teacore leather is wear. When a teacore jacket is broken in, the undercolour is revealed, creating an eye-pleasing patchwork of patina and wear.
Technically, all of our Shinki horsehide leathers except for the Black Oil Tan are teacore leathers. Our pigment finishes are specifically designed to expose the undercolour with wear, while our Oil/Wax finishes tend to soak deeper into the raw hides. Eventually, even the Oil/Wax finishes will lighten with wear, but for the classic vegetable tanned look the Pigment finishes are ideal.
For more information on all of our leather types (including the ones not usually included online), check out our leather glossary located here.
Leave a comment
Comments will be approved before showing up.