Suede Jackets Now Available For Bespoke Order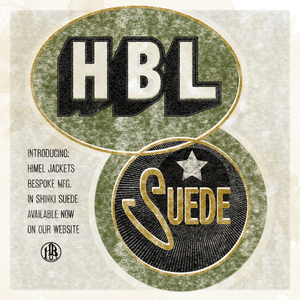 Available to the public for the first time, Himel Bros. Leather is proud to present our new collection of jackets for Spring 2020 in Chocolate Brown Shinki Horsehide Suede.
Light, supple, and soft, our Shinki Horsehide Suede nevertheless sacrifices no durability. The deeply napped surface will show wear beautifully over time, smoothing in areas of high traffic. These jackets are perfect for springtime temperatures. The leather is a rarity—Shinki Hikaku manufactures very little suede—and has been formulated specifically to have the characteristic of antique suedes used in the 1920s and 30s. The dark Chocolate Brown color is also typical of suedes used throughout the 19th century.
Our suede has another characteristic which is practically unique among contemporary leathers: it's full-grain. Most suedes are split, reducing total durability. Unlike these suedes, Shinki suede is a complete hide with a napped surface; it's similar in function to a roughout leather, but with the soft, plush surface of a true suede. 
Displaying the essence of Himel Bros. style, the collection includes the button-up Okimakan work jacket, the iconic Heron Zip, and the minimalistic biker Ross Mk. 1. Additionally, we've decided to release an iconic archive jacket in this new material: The Arrowhead Pullover Racing Shirt.
Check out the collection here. 
Leave a comment
Comments will be approved before showing up.