All-Leather Wolverine Review from Ari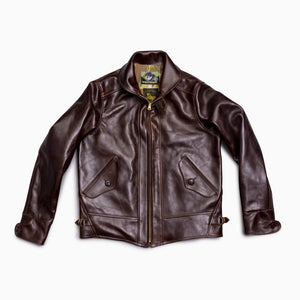 Note: Brand names have been obscured to protect the innocent.
Dear Himel Brothers Team,
My name is Ari, and I recently ordered a Wolverine jacket in all brown shinki with no hair on hide from you guys. I'm wearing the jacket as I write this email, and I would like to express my thanks to your team for creating such a high-quality product and also for your excellent customer service and communication. I had sent something like 50+ emails back and forth with Parker about sizing, ordering and logistics (shipping to Israel which isn't easy) and I just wanted to say thanks. I definitely feel like I got my money's worth out of the order and ordering from you all was an amazing experience that I would definitely do again and am already recommending to others.
On to the jacket:
Sizing - the sizing is perfect. After much deliberation with Parker and sending photos and measurements back and forth I trusted the team with sizing and it worked perfectly. I would like to attribute this not to the custom measurements or requests that I had but rather to the beautiful and unique pattern of the jacket. I purposefully only requested a few minor changes, primarily in the sleeves, to keep the original shape and form of the jacket intact, and I am glad that I did. The curving lines and form of the jacket exude both thoughtful and tasteful design that flatters the human form while also exuding a certain subtle masculinity that makes me feel great while wearing it. To say the least, the pattern is the most flattering out of all the jackets that I own, and I own numerous leather jackets and others.
Materials - the leather is great. This is my second shinki jacket (first being ********* and frankly this leather is even more impressive than the ****** cut. It's firm but not overly so and is already creasing beautifully and breaking in perfectly. I couldn't be more satisfied with the leather. The zipper is beautiful and unique as well - not overly large and bulky but definitely sturdy and tasteful. The side tightening rings are nice brass but a little underwhelming overall - perhaps some sort of buckle would have been a better choice here but frankly it's minor. The lining is also beautiful and unique - I wouldn't have it any other way.
Finishing - the stitching was 99.9999 percent perfect with only one minor blemish that isn't important or noticeable at all and one loose string on the button of the sleeve cuff that I cut off myself. Overall the finishing is better than my **** and slightly better than my **** jacket (which has the same level of stitching but overall lower quality finishing).
To say the least I am satisfied with my jacket even more than I had thought. I will definitely consider purchasing Himel again if ever required. Some thoughts that would have improved the experience:
A hanger would have been nice to be included like I received with ***** but by no means crucial.
A buckle instead of rings for the hip fastener would have been nice.
I feel like I'm nitpicking, and I am. The jacket is beautiful, the ordering process was great and I'm beyond satisfied. The Himel Brothers motto rings true with the jacket and I can't wait to wear it for the rest of my life.
Thanks, especially to Parker who put up with me,
Ari